GhostRec
No market information available for GhostRec

Price details:
Based on usage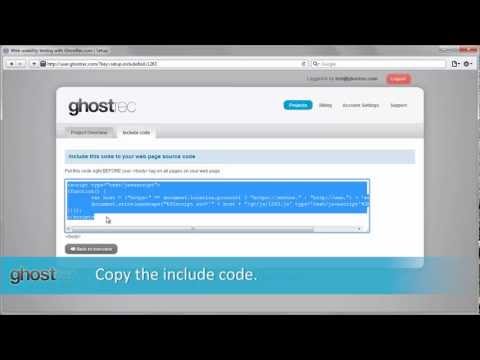 Owner:
EEM Technologies HB
Category:
Screen recording
Website:
http://www.ghostrec.com/en/
GhostRec - is a web usability testing tool, which enables you to perform testig on your website and get recordings of real visitors surfing your website.

GhostRec performes a quick, easy and powerful web usability testing, including fast and easy implementation, heatpmaps, 24 hour support, quick usability study and task usability tests.
Multi-language support:
Yes
Price details:
Based on usage
Price information:
GhostRec Provides Free account (100 Free Credits) and additional credits for 0.03 - 0.05 USD/Recording*. *1 Credit equals 1 recorded pageview.
Data ownership:
Vendor is allowed to use aggregated, anonymous data
Data storage location:
Storage in Western Europe
Gather data anonymous:
Yes
US Department of Commerce's Safe Harbor Framework.:
No
Reviews for GhostRec
GhostRec - tool that gives an idea about how visitors actually surf your website by recordig their every gesture.

GhostRec is an online web analytics service that essentially records mouse movements and clicks done by your visitors and stores it as a video which you can playback later. Hence you can precisely observe how a visitor deals with your site, what interests him, how much time one takes reading your content, how one browses your web-pages, etc.

Upon registering a free account, you'll have to copy-paste their code into your site's HTML which will record the mouse gestures of your visitors. You get 30 free recordings. If you need more, you'll have to buy them. So it's not a free product. But the pricing is very decent. (See price list here)

Actually, even 100 recordings are more than enough unless you have an online empire. You need just samples here, right? You need know the pattern of how a visitor perceives your site. And for that, 100 samples are enough to give you the idea.

Overall, it is a good tool which you need to try.
Ajax recording support:
Yes
Multiple (client) logins:
Yes
Integration with web analytics:
No
Aggregate session analysis:
Yes
Live video/audio of user:
No
Highlight actions within sessions:
No
Heatmapping included:
Yes
Sharing of comments within sessions:
No
User feedback included:
Yes